Celebrating 20 Years
of Alnylam
Innovation
Leadership
Perseverance
Innovation
Scroll to Start Your Experience

Revolutions are born from the aspirations of people who believe there's a better way.
Harnessing a breakthrough discovery in biology to treat disease in a better way, and transform the lives of patients in doing so, has been the mission for Alnylam from day one. Our founders believed that a new approach, leveraging small interfering RNA (siRNA) and the body's natural process for gene regulation - called RNA interference (RNAi), could be used to treat patients in ways that other classes of medicines - such as small molecules and antibodies - could not. They also believed that the unique characteristics of RNAi opened up a broader range of disease targets, including many which had been deemed "undruggable."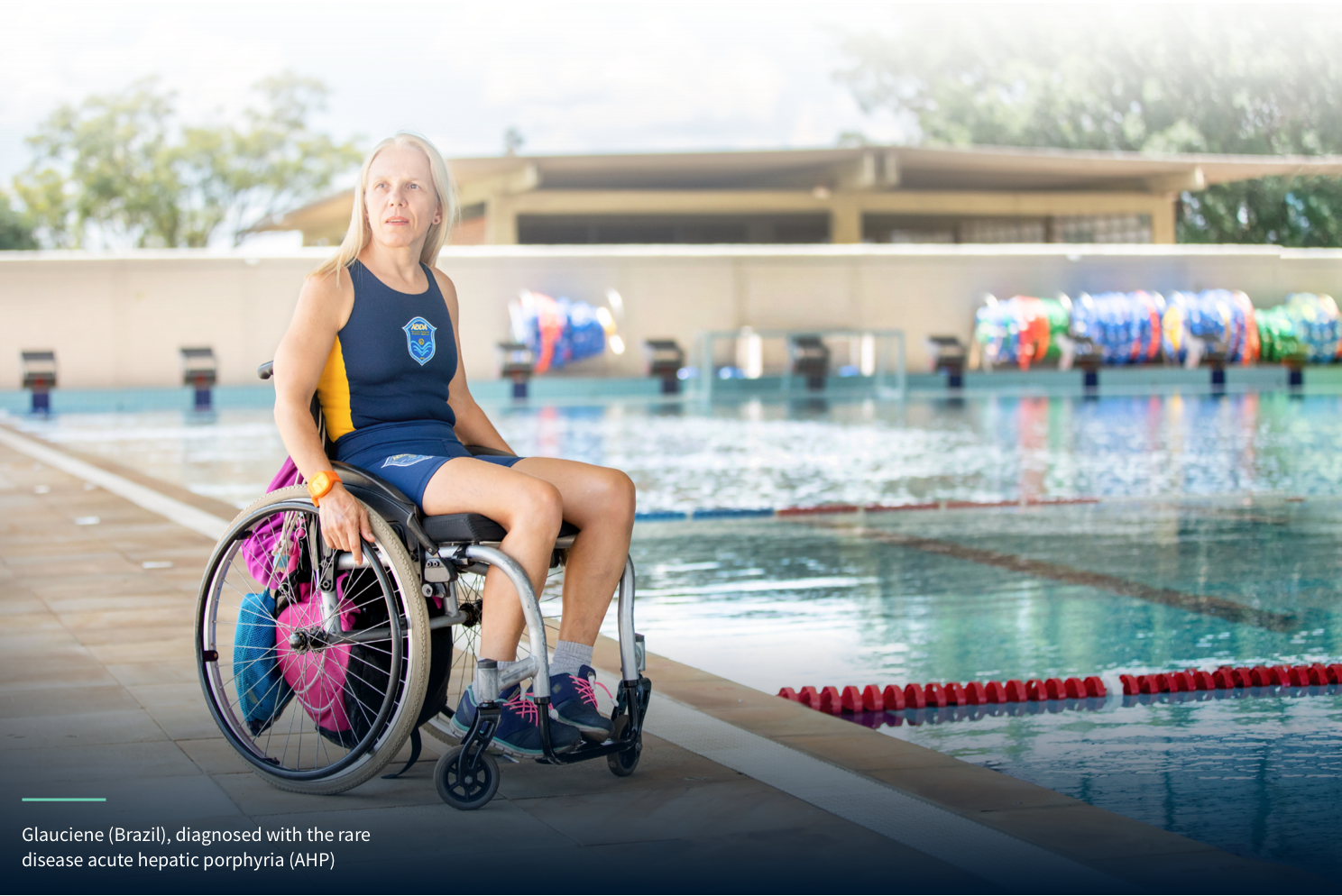 Glauciene, diagnosed with
acute hepatic porphyria (AHP)

Alnylam cofounder and Nobel Laureate Dr. Phillip Sharp first published a paper on using RNA interference and double-stranded RNA to silence genes in mammalian cells in Genes & Development in 1999. This paper would prove to be the catalyst for the collaboration between Alnylam's  five founders that would ultimately lead to the creation of the company in 2002.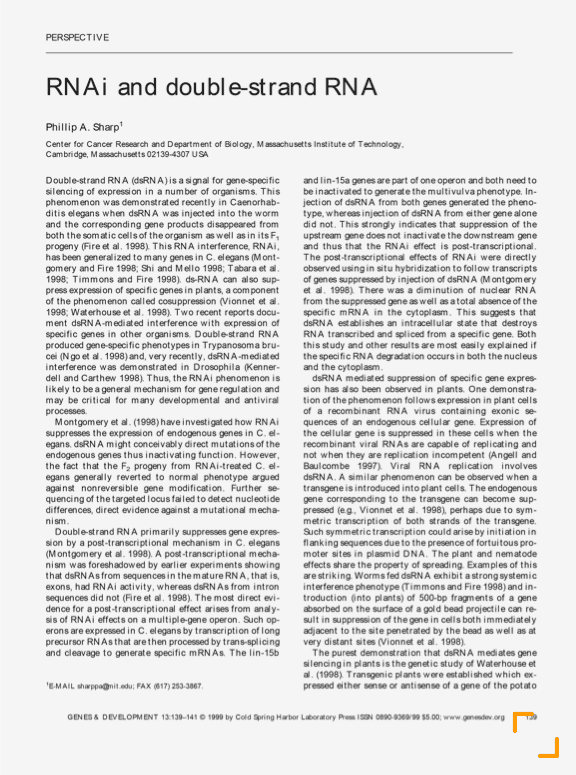 Alnylam has led the RNAi Revolution
Performing the earliest and foundational research into how to utilize RNAi to silence genes that cause disease, Alnylam pioneered the first phase of the RNAi Revolution. Through sustained research and development efforts over more than 15 years, our work yielded the critical breakthroughs and innovations that made the field of RNAi therapeutics possible.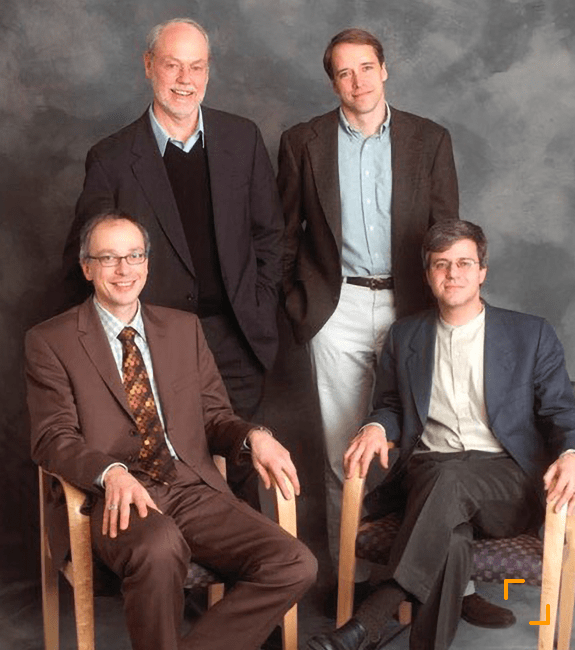 Phillip Sharp, David Bartel, Thomas Tuschl and Phillip Zamore conducted the first experiments to try to develop the biochemistry of RNAi in vitro. Having confirmed the ability to go from double-stranded RNA to silencing of messenger RNA (mRNA) in a test tube, they moved on to other critical research that gave them the confidence to found Alnylam with Paul Schimmel (not pictured).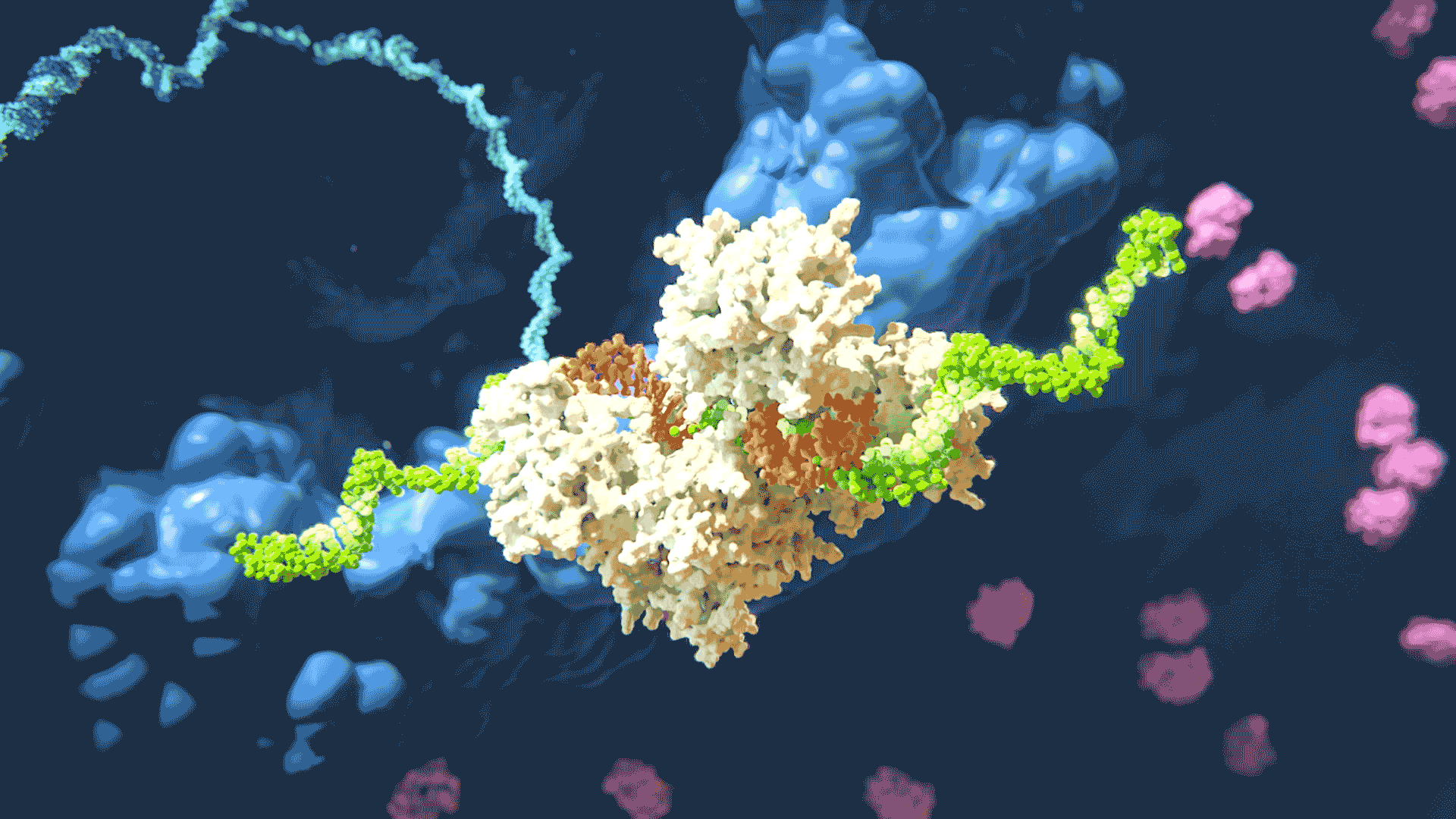 The RNAi process "silencing" gene expression by disabling target mRNA

The Zimmerman et al. paper published in 2006 in Nature demonstrated conclusively the gene-silencing effect of RNAi therapeutics in mammals for the first time.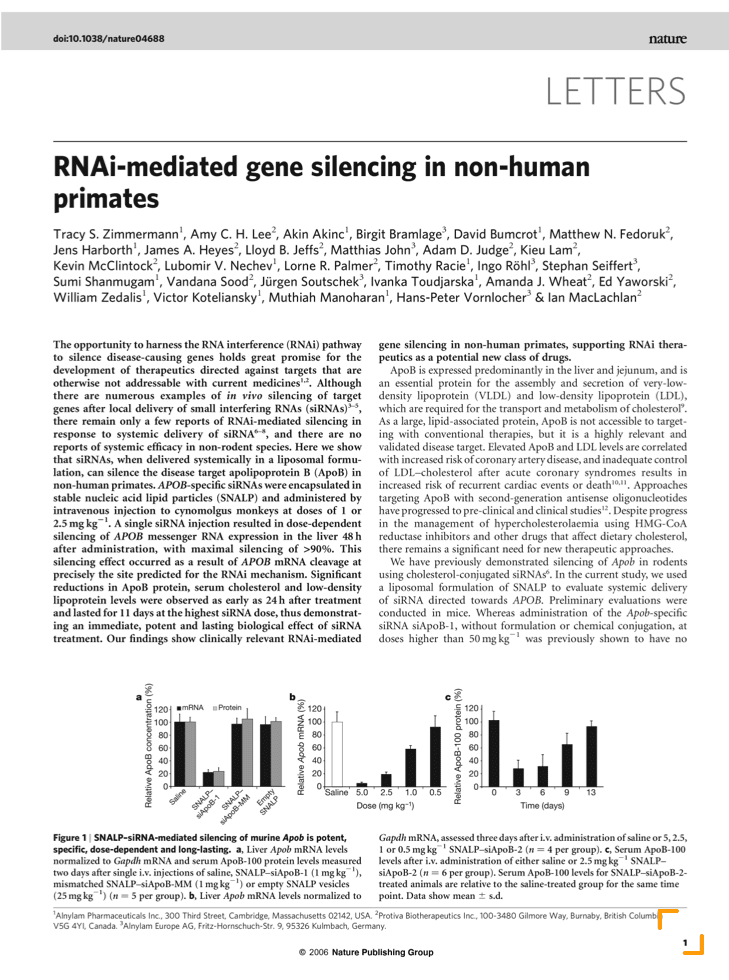 Rare Diseases Prove the Concept, and Prove to be Just the Beginning
Alnylam's ingenuity and perseverance in solving the challenges presented by pioneering science established a revolutionary new approach to drug development that enables rapid advancement of new therapies for patients who are waiting. People impacted by rare and genetic diseases, who had no, or very limited treatment options, were the first to benefit from this new class of medicines when the world's first four (and only) RNAi therapeutics were approved in quick succession. But broader application of the RNAi approach was already well underway. Today, our robust pipeline includes several investigitional medicines in diseases including hypertension, hemophilia, hepatitis B and Alzheimer's disease.

In 2012-13, the Phase 1 clinical trials for Alnylam's ALN-TTR01 and ALN-TTR02 (depicted in this graphic) demonstrated for the first time in humans the ability of RNAi therapeutics to "knock down" (i.e., reduce) levels of a specific protein (in this case, transthyretin). Data published in The New England Journal of Medicine, August 29, 2013—Safety and Efficacy of RNAi Therapy for Transthyretin Amyloidosis.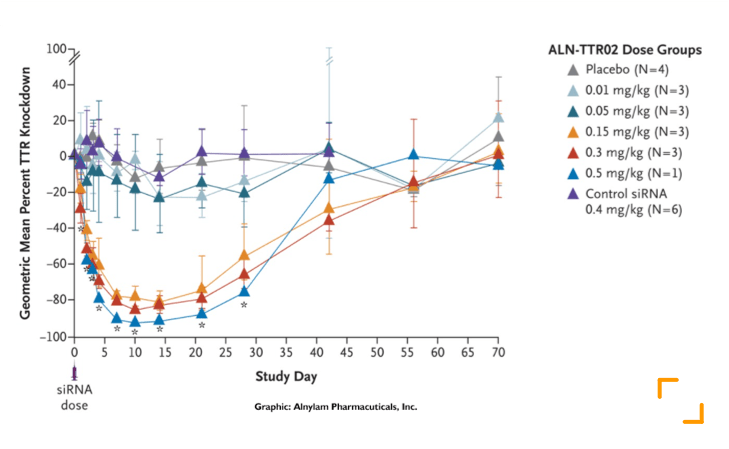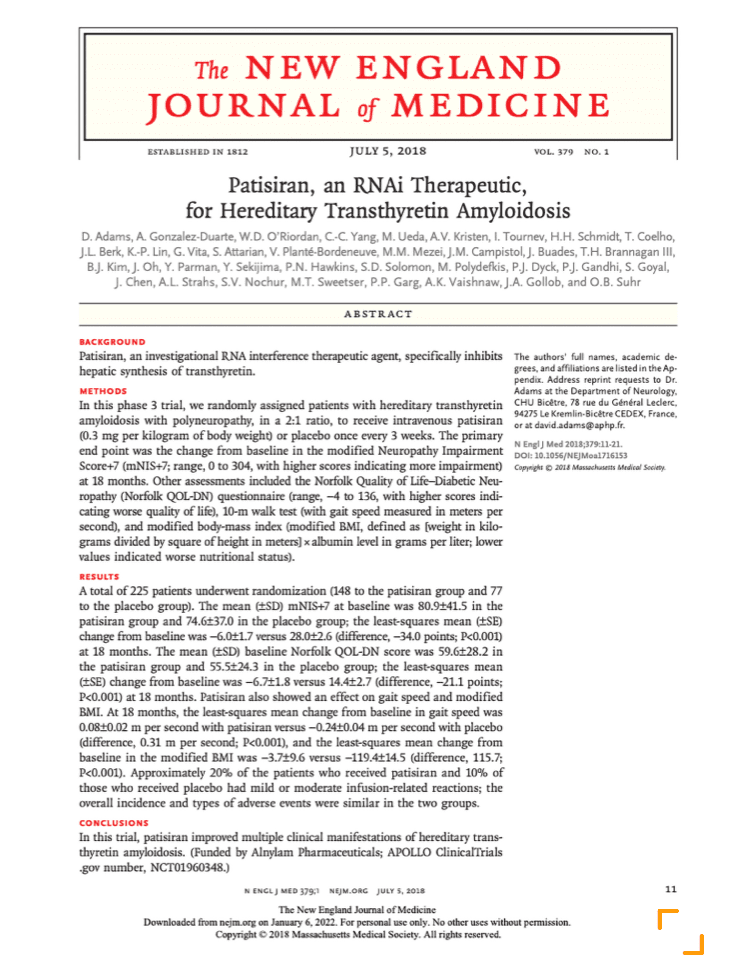 Building on the successes and findings of ALN-
TTR01 and ALN-TTR02, the Phase 3 APOLLO
clinical trial demonstrated the safety, efficacy and
durability of patisiran, which would go on to be
approved by regulatory authorities as ONPATTRO®
and would also become the world's first-ever
approved RNAi therapeutic and Alnylam's first
commercial medicine. The results of the APOLLO
trial were published in NEJM in 2018.

Celebrating our Past, Present and Future
2022 marks our 20th year as a company. It also marks 20 years of scientific breakthroughs, development obstacles and achievements, technological innovation, perseverance and ultimately (and most importantly) meaningful impact for patients. Pioneering an entirely new class of medicines is a challenge like few others, and the odds are greatly stacked against success. So while we look forward with great anticipation for what's next in the RNAi Revolution, there's so much to celebrate about our incredible journey, from a biotech start-up based on little more than a scientific hypothesis to where we are today as the leading RNAi therapeutics company.
Few outside of our walls thought we'd make it to 20, adamantly deeming RNAi therapeutics "impossible, impractical and unrealistic." To that, we have always said, and will continue to emphatically say, "CHALLENGE ACCEPTED."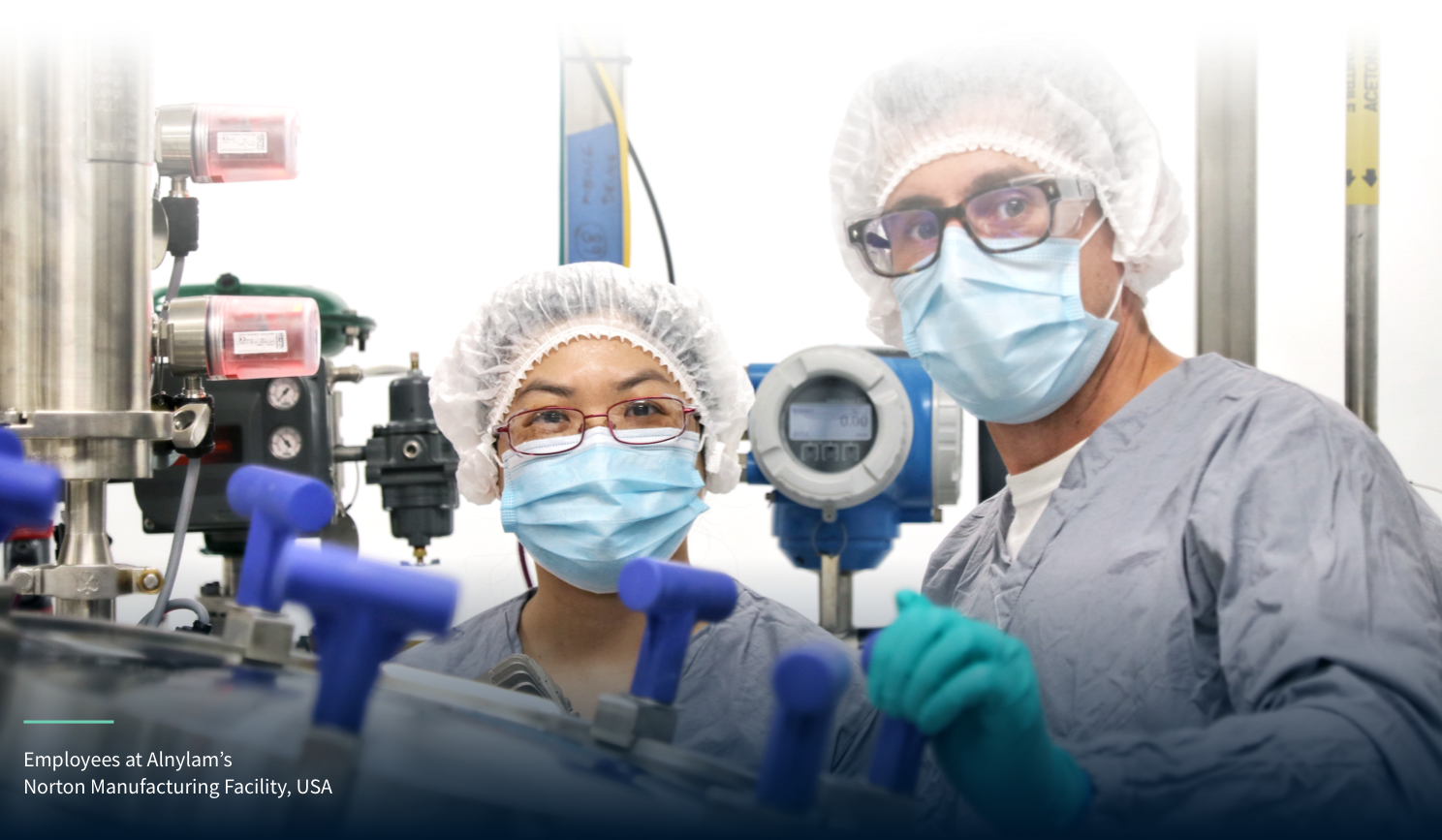 Employees at Alnylam's Norton Manufacturing Facility, USA
In the coming months, leading up to our 20th anniversary on June 14, we'll be sharing more here about the fascinating story of Alnylam's first two decades, and perspectives on what we, and others, expect of Alnylam in the next 20 years.
Check back often and follow our anniversary-related activity on social media using the hashtag #Alnylam20th.